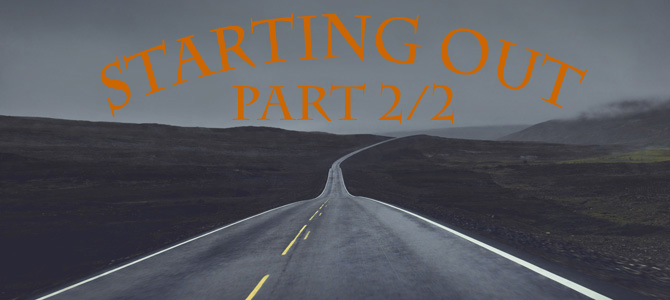 I Wish I Knew
Now for the completion of the top ten things I wish I knew when starting out in the reward and loyalty point game.  Continued from part one.
TIP #6: Solicit Advice from the Pros by Following Blogs or Sites that are most Relevant to you
It really goes without saying, as I am a blogger and you're reading this to gain information, that others are generally very helpful and have a wealth of information to help get you started quickly and on track.  By following the advice of those that have already made the common mistakes, you can avoid making the same ones.  I don't really want to recommend any one site over another.  You can check out my "Travel Links" section for several blogs to check out to see which ones fit your situation best and have the authors you prefer to read.  Many times it's that manner of presentation that you will prefer and will drive you to one site over another.
TIP #7: Jump on Deals Quickly When They Appear
I cannot tell you the number of deals that I missed because I took too long to think it over and just figured I would get back to it eventually.  Many deals are ended once the award seats are gone, the general public find out or an error is corrected by the vendor.  The same is true for purchases that are earning large amounts of points due to a portal or vendor promotion.  If it's points you need for a targeted redemption and products you can use or can gift/re-sell, jump on it quickly.  Make sure you can actually utilize the product or travel, but decide and act quickly.  You've been warned.  The same goes for longer term good deals such as the Bluebird Vanilla Reload cards of old and Target REDcards more recently.  These were great deals that had their time, but were eventually closed down.  Those that acted quickly sure earned a lot of points while they lasted.
TIP #8: The Best Use of Miles is Normally Premium International Travel
From a strictly value position, premium international travel is the best bang for your buck (point) when redeeming.  It hard to find any point redemption that gives you more cents per point in value than a first or business-class ticket redemption.  But remember, it's only the best if it's the best for you.  In other words, if you have no desire to travel internationally then it's not really a great redemption to get a ticket in first-class to a place you have no desire to visit.  Maybe the best redemption for you is a cruise so you can join your best friend, but can't afford to pay cash.  This may be one of the worst value redemptions, cents/point wise, but sure the best one for you at the time.  Remember, we do this for ourselves, the memories and our families, not to brag or show others what an expensive ticket we were able to get for free.  I'd say it's a really poor redemption if the only thing we get out of it was the ability to post a picture on our Facebook.
TIP #9: Miles can be Credited to Airlines Other than the One You're Flying and Redeemed for Flights on Other Airlines
It's important to know where you need points for your next award or flight so that you can have your points credited to the best program.  Learn the different partnerships and Alliances (OneWorld, SkyTeam & Star Alliance to name the largest) as you can often fly one within an Alliance, but use a frequent flyer number from another to have the points credited with their program.  One can also use points with one program such as British Airlines (BA) Executive Club, to redeem for flights with a partner such as Alaska Air.  I personally use my BA Avios for Alaska Air domestic flights as that is the airline that flies out of my local airport and it's a great value use of my points.  The Points Guy has a pretty good article at this link for a more in-depth explanation.
TIP #10: The Value of a Point is Different for All the Programs
Remember that a point is not a point, is not a point.  They are not created equal and all have different values.  For example, a Starwood Preferred Guest (SPG) point is worth 2.4 cents and a Marriott Rewards point is only worth .7 cents or less than 1/3 the value.  You can always check out my page here to see the latest valuations that I normally get from The Points Guy as he updates his analysis the most often.  But once again, if you really want a week at the Marriott in Orlando then the Marriott Rewards points become more valuable to you until you achieve your target amount for that reward.  It's always your situation that should drive your specific actions.  Don't miss the forest because of the trees 🙂
I hope this list helps reduce the times you say "I wish I knew that."  As always, happy brainstorming and safe travels!  Please be sure to use my Amazon affiliate link to do your holiday and other shopping and support this site so I can keep it going and free for all.