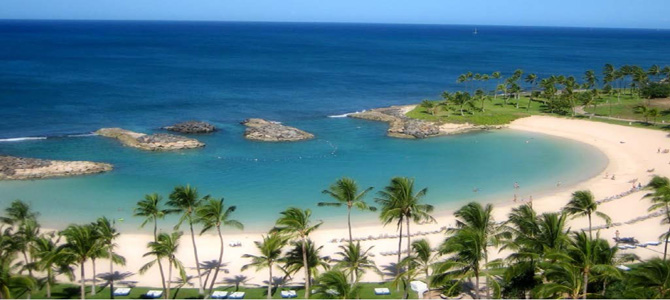 By Jon Mohatt (Aka Travel Brainstorm)
I know the goal of many of my readers, and those of similar blogs, is to travel in luxury for free, but sometimes you just don't have the flexibility or opportunity to travel when you want or when you can find the best super saver awards, free rooms, etc…  This is frequently the case for us as we are a family of five with three school aged kids.  Follow me on my next several posts as I review our Hawaii travel plans. For this year's Spring break we are planning a trip to Hawaii and it has to be during the kid's school spring break week so I knew I wouldn't get the best deals, so it has become a challenge to see just how much we can save and still have a gloriously nice and memorable, yet value-oriented, vacation with the kids.  I'd much rather be able to book a trip like the one we did to Key West for only $66 but that wasn't with the kids and we had more discretion on when and where we traveled.  This year the kids (and wife!) are already set on Hawaii, as the kids have never been, and the dates are locked, so here we go.
The first step for us was to secure lodging.  Since I am a military retiree I immediately booked at the Hale Koa Hotel on Waikiki Beach as a place holder if nothing else came through.  This is a military hotel reserved for only those with proper military affiliations such as a military retiree. My wife and I have stayed here before and knew it could work in a pinch. Since this is a hotel where the rooms only have two beds, the maximum occupancy is four per room forcing us to reserve two rooms at nightly rates of $151.00 for the first room with three occupants and $136.00 for the second with two occupants.  We are staying on Oahu for seven nights so the reservation came to $2,009.00 including taxes and fees.  Although this is a very good rate for being right on Waikiki Beach, we are not fans of being in two separate rooms as it kind of defeats the purpose of vacationing as a family (i.e. being together) and just isn't optimal accommodations for dinning in your room or being able to really relax when needed.
Similar hotels to the Hale Hoa in the same area on the beach, such at the Hilton Hawaiian Village, were going to run $308.00 per room per night for a total of $5,346.98 w/ taxes and still have us in two rooms with no guarantee of any ocean views.  To book these rooms with points would cost 775,080 points per room, which I do not have and would not use even if I did for this property.  Using points from any hotel program during one of the busiest weeks of the year is not really a practical possibility or best use for the points.  This all made the Hale Koa look very attractive at $2,009.00, but I had a few more tricks up my sleeve to try and get nicer accommodations in a quieter, more family-oriented, location that could accommodate all five of us together.
Other options that we have used in the past for renting houses and condos were Vacation Rental by Owner (VRBO),redweek.com and the Timeshare Users Group.  I know there are many others, these are just the one I have had the best luck with and positive outcomes.  One has to look around and do their due diligence, but we have been very successful with VRBO.  Since we didn't want an entire house like we do when we have family reunion vacations, we thought we would utilize redweek.com.  I was able to find a two bedroom, 2 bath condo at Mariott's Ko Olina Beach Club (see selections below) which is a Marriott Vacation Club property right next door to the new Disney Aulani Resort (so I knew the location was great) for the very same week as my kid's Spring break.  I'll post more on timeshares in future posts as I've got lots to say about timeshare ownership.
Redweek.com does require one to be a member to contact owners about the rentals posted on their site but it is only $14.99 per year which I find well worth it even if one is just checking prices or wanting to contact an owner to ask about a property and it's location before making a rental decision.  I was able to contact an owner at Ko Olina well in advance and get their recommendation(s).  I discussed this property with some one that had already rented their unit so he had nothing to lose by giving me his honest opinion and he said his family and him just loved their Ko Olinia room and were sorry they couldn't use it themselves this year.  They can't wait to go back and proceeded to tell me all about the property.  So when I heard the same type of feedback from the owner I ultimately rented from, it gave their testimony that much more credibility as it matched what others had already told me.  I know that my family will have a wonderful time at this resort.
The seven nights at Ko Olina is costing me $2,800.00 versus the $2,009.00 at the Hale Koa, but it is giving us 1,280 square feet of living space, separate bedroom and bathroom for the kids and a full kitchen.  The money we will save from eating out every night will make up for most of the monetary difference.  The real advantages of a condo are the additional room, separate living areas to just relax when needed and full kitchen.  In a hotel room there is no getting away to relax anywhere in those tiny rooms and that can be a true blessing on a long trip.  The family can all be together yet have their own room to chill.  By renting our room directly from an existing owner we will save $3,494.12 or 56% off the Marriott rates (see below).  Using points wasn't even an option for this time of year as no rooms for points are available.
Some folks may question the safety of renting from an existing owner that they have never met as there is some risk involved with this method, but I feel I minimized the risk to the greatest extent possible.  I talked to and emailed the owner via their cell phone and work email to help verify their identity,  Their email matched the company I called to contact them at work.  I connected with the owner on professional basis via LinkedIn (company once again matched) and called Marriott to verify the reservation had my name added as the guest.  I also paid my deposit via PayPal to get their purchase protection should anything go wrong.  I am very comfortable with our reservation and by using a reputable site such as redweek.com where we both had to be members I have them, Marriott, PayPal and my credit card company to fall back on if I should need help with the transaction.
By using PayPal I was able to use a credit card to purchase the condo which equates to 5,600 Barclay Arrival points which will contribute $61.60 towards my travel expenses placed on my Arrival credit card.  Therefore, the final condo cost is really $2,738.40, but I will make all my finally costs clear on the final trip post that will include my entire trip expense report.
Once I secured this condo I cancelled my Hale Koa reservation and lodging is now checked off my list.  My next post will cover flight accommodations.  As always, happy brainstorming and safe travels! Be sure to sign up to be notified of future blogs posts (top of right sidebar), let your friends know about this blog and check out all my travel reviews on TripAdvisor, just search for "TravelBrainstorm" (one word)!