Determine Your Goal and Concentrate Your Efforts
by Jon Mohatt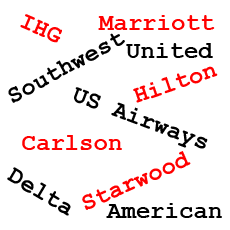 You are now well on your way to free or significantly reduced travel.  You've joined and reviewed the major hotel, bank and airline reward programs, you've started earning some points and you are tracking them via AwardWallet or another tool.  You are cruising towards your first, or next, reward.  The question you need to ask yourself now, before you go much further, is "What is my next trip (goal)?"
You need to take a minute to have a Travel Brainstorm with your family on where you all want to travel.  Maybe you have a family with kids and you want to head to Walt Disney World or Disneyland or maybe it's just you and your spouse and you want to jet off to some far and exotic destination.  Once you and your family members have had your Travel Brainstorm, eliminated the obvious "not this year" trips and then racked and stacked the rest, you will have your goal firmly in mind.  Knowing this is huge because you can now concentrate your point earning efforts towards the appropriate reward programs that will allow you to achieve your goal.  Concentrating your efforts, instead of random point earning, will get you on the road much sooner.
Let's step through a simple use case (example).  Paul (fictitious fellow) lives in Denver and he and his wife Sally want to buzz off to Cancun during the winter months to warm up a bit.  Paul is lucky in that he lives by a major international airport, DIA, so his choice in airlines will be greater than others.  Paul's first step is to determine which airlines fly routes from Denver (DEN) to Cancun (CUN).  This can be done by doing a search at www.kayak.com or a number of other flight search engines.  Google will do it as well by typing the shortcut "Flights: DEN CUN" which produces a search result where you can add your dates to get flights available.  I like Kayak because it allows you to sort by airline alliances.
Here are Paul's results from Kayak: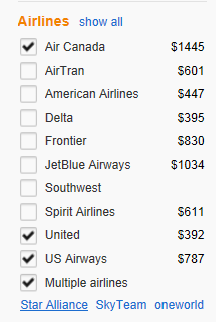 Listed are the airlines that have flights from Denver to Cancun, and by clicking on a partner program along the bottom Kayak will show you which airlines are members.  In the case above it shows that we have three airlines and some multiple airline options by using Star Alliance.  The other two programs had just one airline each so it looks like we should concentrate our point earnings in programs that can book Star Alliance airlines, United in particular because they came out as the low-cost provider for this flight which may result in the lowest point reward.
When Paul looks at his reward programs he sees that he is a member of United MileagePlus and US Airways Dividend Miles but has more points with United so he is leaning that way for his point earning efforts but needs to look at where he and Sally will be staying.  This is where some personal decisions have to be made as choosing a hotel or resort is more complicated than an airline as it is not as much of a commodity.  There is a lot more personal preference in picking where you want to stay.  Cancun has many all-inclusive resorts which one may prefer over a typical hotel so one just needs to make a choice.  Paul and Sally decide that they will look for a Marriott because he already has several Marriott Reward points from his business travel and knows that they have a nice resort, the JW Marriott Cancun Resort and Spa, which is available during the week they want to visit Cancun.  He checked www.tripadvisor.com and found many positive reviews.  It ranks #24 out of 174 hotels in Cancun.  Paul also knows that Marriott Rewards will give him the fifth night free when booking four reward nights.  That is a great way for him and Sally to stretch their points.  This is where it comes in handy knowing the details of the programs that you are most likely to use.  Over time you will learn many tricks of the programs you use most by reading blogs such as Travel Brainstorm and others.  This series is just some of the reward program basics.  Future posts will reveal even greater details.
Since Paul and Sally know the want to use United MileagePlus and Marriott Rewards points for their trip they total up the amount required by checking the respective Marriott and United web sites and determine they need 75,000 more points across the two programs.  Of course, since Paul and Sally are staying at Marriott they will want to make sure the points they are redeeming individually on United and Marriott is less than what they can get by using Marriott Reward's Hotel + Air program.  In this case they only want to stay five nights to reduce the amount of points necessary by taking full advantage of Marriott Reward's 5th Night Free program and the Hotel + Air program just offers seven-night stays.
Paul knows that he can earn 50,000 points by signing up for a Chase Sapphire credit card (he has an App-o-rama coming up) and spending $3,000 within three months (required spend for sign-up bonus).  That will give him 53,000 points (Bonus + 3K from the spend) leaving only 22,000 more to go since all Ultimate Reward (Chase's reward program) points can be transferred into United MileagePlus at a 1:1 ratio and into Marriott Rewards at a 1:1 ratio as well.  Below is a complete list of UR Travel Partners that allow transfers (as of 11/1/13).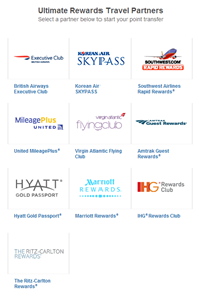 When Paul reviews his upcoming business trips he realizes that he can earn 12,000 points by flying United and staying at Marriott so all he and Sally need to do is spend $10,000 (perhaps less with certain UR bonus offers) on their Chase Sapphire and they will be able to transfer enough points into MileagePlus and Marriott Rewards to book their trip.
So as you can see, with a little prior planning that next vacation may be just around the corner and at a significant savings.  A key point to remember is that one needs to become familiar with what programs can transfer to others to maximize their reward options.  Ultimate Rewards, Starwood Preferred Guest and American Express Rewards are just three of the most popular programs that allow points to be transferred, but there are many more (stay tuned for a future blog on this topic).  As you continue your point adventures you will find many program features that will extend your options and help focus your earning efforts.  There are literally hundreds of combinations of program features that can be combined to make a trip come together.  With just a little time and effort you can master the basics and be working on maximizing every point.  I personally don't obsess on getting the max out of every point but rather, getting a good value for my points for travel that I desire and would want to take with or without points.  Everyone will have their own philosophy and travel budget and will need to get more or less from their efforts.  The end result is what is important and that is getting out and making some memories.