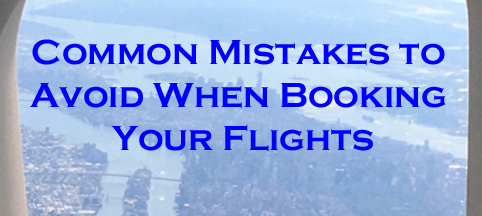 I'm The Worst
When I book my flights I am still amazed at what I sometimes forget even though I know better.  I just wanted to go over some of the common mistakes I still make when in a hurry and include some helpful links so you will do better than me when you book your flights.
Finding Your Flights
Since I live in a market with limited carriers I am often tempted to just go directly to their website to search for their best flights.  I definitely know better and know that I should instead use ITA's Matrix Tool, Kayak and Google Flights (some tips) to do my searching.  Of course, if you love to use Allegiant or Southwest, you will have to use their sites as their flights are not searchable on most other sources.  One important noteon these "budget" airlines, especially Spirit and Allegiant, is that they add fees for everything so be sure to compare your FINAL cost with other airlines before deciding to use them to purchase your tickets.
Everyone Loves Cookies
It's always a good idea to clear your browser cookies before starting a new search.  Some say you can just use an incognito window as well, but either way, you don't want the web site you're searching getting your search history and adjusting prices accordingly.  Yes my friends, some sites are smart enough to know you've been looking and will hike up the prices if they know you're desperate.
Don't Be Tricked
When booking your flights don't be tempted to purchase "premium Seats" such as Economy Plus or Comfort Plus because there are only middle seats remaining. If you have some time before your flight, you can normally log back into the airline's site (via your loyalty program login) at a later date and change or make your seat assignments as additional blocks of seats are released closer to the departure date.  Remember to just not select a seat, which is what I do, when only middle row seats are available.  Many times I end up being able to grab an aisle or window seat closer to departure time.  Worse case, I end up in a middle seat, but I'll only take that as a last resort and may upgrade when checking in if it's a long flight and I appear to be out of options.
The Fear Factor
Another trick sites like to pull is stating that there is "Only 1 Seat Remaining" to get you to book right away while on their site.  Odds are that maybe only one ticket remains at a certain fare class, but probably not only one seat on the plane.  Point is, don't let this pressure tactic sway you into a premature decision.
Don't Forget
It is always best to be flexible when traveling and I often forget to flex around my preferred arrival and departure dates.  Some of the best times I have had on vacations and business trips have been during the "extra" day(s) I've added on the front or back-end of trips.  Don't be afraid to live a little and take a mental day to just explore and see what you find.  You may just end up saving money to boot.  The same concept goes for searching all nearby airports.  On a recent trip to NYC we flew into JFK, but out of La Guardia and it saved us hundreds with minimal hassle.  We do the same in Phoenix as well as many don't remember that they also have multiple airports.  Bottom line is, don't be in a hurry when booking and stay flexible.
One Last Tip
This is one that I always forget and always kick myself later.  When searching for flights on the sites above you normally then have to go to Expedia, Orbitz or Travelocity to book your flight.  Remember that these sites normally have best price guarantees.  Here are Expedia's, Orbitz and Travelocity's guarantees.  If you book with them and find another flight cheaper within 24 hours, they will pay you the difference plus $50.  Even though this normally works better with hotels, it can work for flight too if they drop in that 24 hour window.  My problem is that I always forget to check.
As always, happy brainstorming and safe travels!  Be sure to bookmark our "Travel News" page for all the latest headlines from many popular travel bloggers.