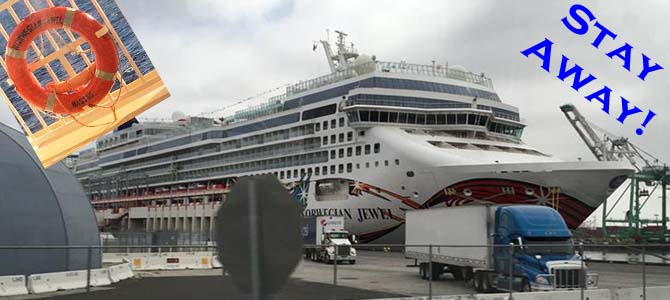 NCL will never make my "Best Cruise lines" list
I've already established why I feel Norwegian Cruise lines (NCL) has the worst customer service in the cruise line industry and possibly entire travel industry.  Our most recent NCL cruise certainly supports this assessment.  NCL comes nowhere close to some of the best cruise lines we've cruised such as Princess and Disney.  As I finish up my NCL cruise review with my thoughts on the condition of the ship we cruised and its management we'll see if you agree.  As a reminder, we sailed on the Norwegian Jewel out of Los Angeles, CA (Long Beach to be exact) in April of 2016.
Poor Buffet Food Service
Once we got aboard the Norwegian Jewel (a horrendous experience, read HERE & HERE) we quickly found our way to our rooms just to ensure we could find them and then went straight to the outside pool area for lunch where they were serving a BBQ style Bon Voyage buffet.  This first food experience included cold food, raw hamburgers, an out of order ice cream machine and damp napkins.  We hoped that this was not going to be our experience for the entire week.  It was very obvious that the crew had not completely finished preparing the food before people were allowed into the area to eat.  They really needed to finish cooking the hamburgers, drying the napkins and warming up the side dishes before they started serving.  In their rush, they created a huge mess.  There were many unhappy people getting back into line to replace their food.  This created a very poor first impression of the ship, its management and the food service staff.
Dirty and Unprepared Cabins
After lunch we headed to our cabins to take our first good look at where we would be staying for the week.  We had two cabins for our family, cabins 10076 & 10077.  I took a few pictures of the cabins where it shows that they were not completely cleaned from the previous cruise.  I knew this was not a new ship when I booked our cruise, but hoped that its housekeeping and maintenance teams had done a good job at maintaining the ship.  This was not the case as the ship showed its age and was not clean enough to meet my standards and I'm not that picky.  I was in the military for almost 27 years.  Once again, NCL earned its "worst cruise line" ranking.  As icing on the cake, the TV in one of the cabins did not work and tissues were not stocked in the other, so we got to call maintenance on the first day of the cruise, yea!
Overall Poor Experience
I won't go through every day and every note I have on NCL's poor cleanliness and absentee management, but will point out some of the lowest points.  The biggest issue for me was the unsupportive and thin mattresses.  I have a bad back and require a mattress with some support to get a restful night's sleep.  The beds in our cabin were old, unsupportive from years of use and did not produce a peaceful night's sleep the entire cruise.  The ship is overdue for a renovation.  An overall general observation of the ship is that it is too small to cram in 2800 passengers.  During the days at sea we all got to be pretty close up on the pool deck as there was only one pool area for everyone that consisted of two very small pools.  If you did not get up on deck first thing in the morning, you would not get a chair and be forced to sit on the edge of the pool or head back inside.  When you did get a chair you were practically on top of the person next to you.  People were allowed to reserve chairs by draping a towel over them even though it was against NCL policy that was posted everywhere.  When we asked a staff member to remove some towels from chairs that had been empty for over an hour he told us he was not allowed to do so by his manager.  We were speechless as he basically told us that NCL posts policies that they have no intention to enforce.
Pitiful Hospitality Management
In regards to hospitality management, it was completely absent.  Crew members would routinely announce and post policies and regulations, but not enforce them.  People were basically allowed to do anything they wanted.  Here are just a few examples.  A couple on the pool deck were making out and groping each other inappropriately while kids and their parents watched, yet the staff said and did nothing.  The staff even stopped to take pictures for the couple when they asked.  Another lady in this same group proceeded to make her way around to other members in the group, both male and female, and made out with any who was willing.  She was visibly drunk and making a general fool of herself, yet the staff did nothing to correct the situation. There were adult only areas and their cabins where this behavior would have been more appropriate.  Another clear example of lack of management was in the theater for the evening shows.  Every night the entertainment manager opened the shows and reminded everyone that no kids were allowed in the first three rows yet there were kids in the front row every single show we attended.  This policy violation was even pointed out by several of the entertainers during their acts, yet no one was ever asked to move.  The policy was simply not enforced.  The final and probably best example of the lack of control and order maintained by the management was during a pool deck "Ms. Bicep" contest.  The point of the contest was for women to model their biceps for a panel of male judges, but it quickly turned into a lap dance contest with women all over the judges when it was their turn to "model".  Let me remind you that kids were the majority of the spectators.  One lady contestant even flashed her breasts.  My wife and I were appalled and certainly glad we didn't have little ones with us as all our kids are older.  My daughters were very embarrassed for the poor judges stuck up on stage.  The point is that NCL did not properly manage the competition, keep it under control or even try to take action knowing that little kids were watching.
Stay Away From NCL
I really could go on and on, but will let many of the pictures speak for themselves.  I won't talk in detail about the dirty pool deck, out of order restroom for the entire week, faded and dated decor or ice cream machines that were always out of service.  The entire ship and management staff need to be replaced, renovated or put out of service (i.e. fired).  I will be upset about the amount we paid for such poor quality and service for a long time.  I can assure you I will never cruise NCL again as they have not even bothered to respond to my when I provided my comments and experiences on their cruise.  They simply don't care.  NCL just wants your money.  I strongly recommend you stay away from NCL like us.
Still Made Great Memories
Even with NCL's terrible customer service, cleanliness and hospitality management, my family and I still managed to have a great family Spring Break that created lifelong memories.  We refused to let NCL ruin our vacation.  We had a great time when we were off the ship and made a super friend who was our waiter every night.  He was the one bright spot for us and helped save our on board experience.  The shows were pretty good as well, just not good enough to overcome this overall miserable excuse for a cruise line known as NCL.  Sorry, but there is just no beating around the bush on this one.  The saddest part is that they don't even care.  Even when I tried to give feedback, they were just completely apathetic.  Oh well, there are many other, much better, cruise lines out there more than happy to provide a quality cruise.
As always, happy brain storming and safe travels!