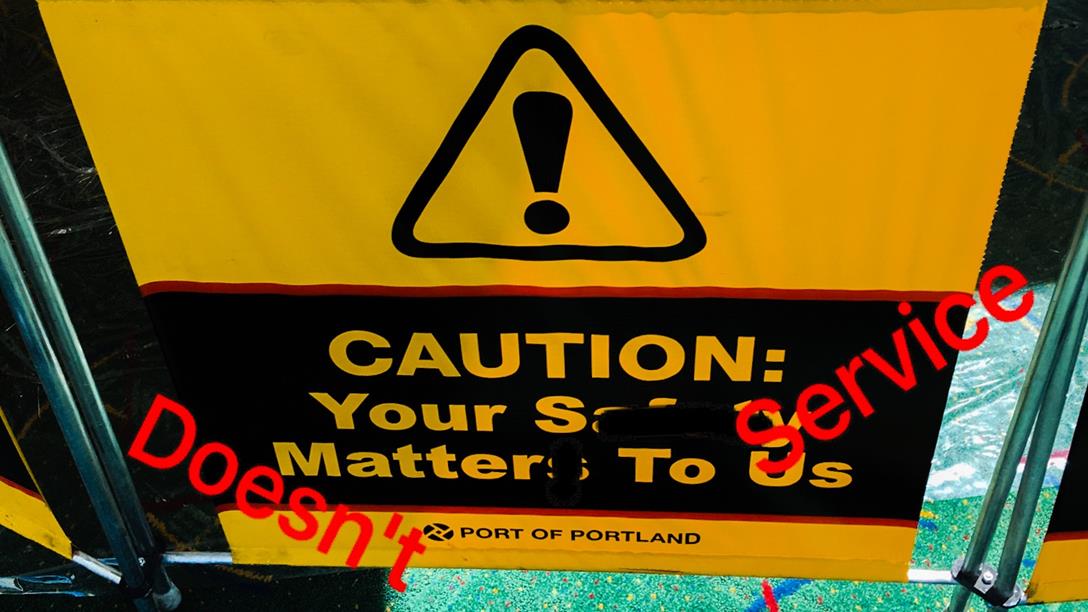 Worst Cruise Line in the Industry
Now that our Norwegian Cruise Line (NCL) cruise aboard the Norwegian Jewel (March 27 – April 03, '16) is done and we are back I wanted to reflect on the trip and provide feedback from our worst cruise ever so that you won't make our same mistake.  To put the bottom line up front, do not ever cruise on NCL and save yourself the pain and regret.  NCL is simply the worst cruise line we have ever sailed and reaffirmed their "worst customer service" and "worst cruise line" status in our book (see blog of cruise booking).  Most of the time we felt like we were part of a bad comedy sitcom or in an episode of Candid Camera and kept expecting someone to come up to us and say "smile, you're on candid camera.", but of course that never happened.   How a cruise line can have such bad customer service and still be in business is difficult to fathom.

NCL's poor Customer Service
I have several notes and comments on this cruise so I'm breaking this trip report into a couple of segments with the first being on their customer service and the second being on the ship and it's management, or rather, lack of management.  Have I mentioned that NCL has the worst customer service in the industry and perhaps among any company I've ever experienced?  The culture that exists in this company for this employee behavior to be tolerated is hard to imagine.  It's like the CEO sent out a memo to all Norwegian employees offering bonuses to those who could serve their customers the least.
Embarkation
We have cruised several times before and know that a good cruise experience starts with a smooth embarkation or boarding.  There was nothing smooth about boarding the Norwegian Jewel, thus, making a horrendous first impression for this ship.  It all started when we arrived and entered the NCL building in Long Beach and was greeted by a representative of a third-party company that NCL must contract with to process their cruisers.  The workers from this company couldn't agree on where we should go or which line we should stand in to be checked in.  One took us to some chairs to wait and then another came along and told us to get up and get in another line.  It was chaos to put it mildly.  Once we were in line, another agent came along and took everyone behind us and started a second line, thus allowing them all to jump in front of us.  This upset many people, but the agents appeared oblivious to customer's reactions to what they had just done or they just didn't care.  When we finally made our way to the front of our line, we were told that our family would have to split up to check in as we had two cabins and they could only do one at a time.  This was ludicrous as I had all the documents with me as every other cruise line just processed us as a family and not by cabin.  Once again, a second agent finally stepped in and allowed common sense to prevail.  I still had to go by myself with one of our kids to get the first cabin done and then they allowed the remainder of my family to rejoin us to process the second cabin.  This was beyond the pale to say the least, and I was literally in disbelief that a company could get customer service so wrong.
Embarkation Chaos Continues
Once checked in we once again had to take a seat and wait for our "boarding group number" (see pic) to be called.  As soon as the first few numbers were called everyone started to move regardless of their number and the agents just gave up and said for our entire section, regardless of number, to just go, once again, allowing many folks to jump the line.  The whole process really highlighted NCL's lack of crowd management skills.  They need to send some individuals to Disney to see how it's done right.
Customer Service Aboard the Jewel
Once we were on the ship the customer service did not improve.  We were unable to get several questions answered during check-in so we went to the main desk before going to our cabins.  Of course, there was already a line formed so I got in line to wait my turn.  As I waited I once again noticed that people were just walking up to agents at the desk and ignoring the line.  By this point I had already given up any hope of NCL enforcing any fairness or control in anything that Norwegian did so I just waited it out and finally got up to the desk.  I asked my questions and was of course treated like they were stupid questions.  All I wanted to do was confirm that what was on our reservation matched the travel package we purchased from Costco Travel.  I was supposed to get some shipboard credit and drink packages, but no one could seem to find this information for me.  They were eventually able to verify that all was on my account and that according to them; "of course" everything was correct.  If they only knew what had transpired to get to this point they would have understood why I was asking and stand there and roll their eyes.   We next went to our cabin to get settled in for our cruise.
Customer Service In Our Cabin
Right off the bat, we ran into a service issue in our cabin with the breakfast forms that were supposed to be slid into our cabin doors (see above pic) to order breakfast for the next morning if you wanted room service.  One thing my wife really enjoys on her cruises is breakfast on our balcony in the morning.  We always fill out the pre-order forms the night before to ensure timely room service delivery in the morning.  So this was immediately noticed.  We also noticed that every time we called or requested in advance our breakfast we always said it was for two people yet we always got table setting for only one.  The food came with one napkin and one set of silverware.  It's like they were made up in advance and no one took care to change it for two people versus one.  This was simply a total disregard for customer service.  One additional general observation we made about the requests we made from our cabin was that it always took 10-20 rings for anyone to answer the phone at the service desk and at times, no one would ever answer and we had to call back.  So, even to receive poor service, you had to wait.  Every time we thought, OK, it has to start getting better now, it didn't.  Like I said, it's as if poor customer service is one of Norwegian's core values.  Thank goodness my family is so awesome and still made this a great family vacation despite Norwegian's attempts to ruin our trip.
The Rest of the Cruise
You can tell when a company puts their customers first and when the company's processes come first.  It was clear from the beginning that Norwegian puts their bottom line and set processes ahead of their customers.  I cannot think of a company that I have used that is worse than Norwegian Cruise Line.  Another example of how off course NCL has become was an incident that occurred while we were getting back on the ship after one of our stops.  It was a colder day as it was overcast and cloudy, yet when we were getting back on the ship NCL was handing out ice cold hand towels.  When I mentioned that what we really needed were heated towels on a day like today, the employee said "well, it was sure hot last week."  Like that explained everything.  This tells me that NCL has a culture of zero employee autonomy and zero employee authority to make changes on behalf of their customers.  This is night and day from a company like Nordstrom where employees are told to do what it takes to make customers happy.
Conclusion
I think I've gotten my point across and hopefully proved through our experiences that NCL has the worst customer service in the industry and that you should think twice before considering them for your next or first cruise.   From our booking (read this blog entry) to its price (detailed pricing here) to the end of our cruise we had wished were on a different cruise line and cruise ship.  In part two, I will talk about the ship itself and the poor management that obviously fosters their terrible customer service.  The one ironic exception was our waiter that we always requested specifically whenever we ate.  He was fantastic and went out of his way to treat us right to the limits his management would allow.  The irony is that he had just transferred from a Princess cruise line ship to be closer to home.  Princess is one of our preferred cruise lines so we were blessed to have found him.  I will add though that he was at times hindered in his quest for great customer service by his manager who I could tell was keeping an eye on him and often pulling him aside when he started to spent too much time with our family and at our table.  Needless to say, we gave him a generous tip for saving our cruise.  I would give his name, but fear retaliation by his management if I did.  He did tell us that he planned to go back to Princess as soon as possible which, once again, confirmed my thoughts and conclusions about NCL.
There will be more to follow in part two of this trip report where I will concentrate on the ship and its management.  As always, happy brain storming and safe travels!