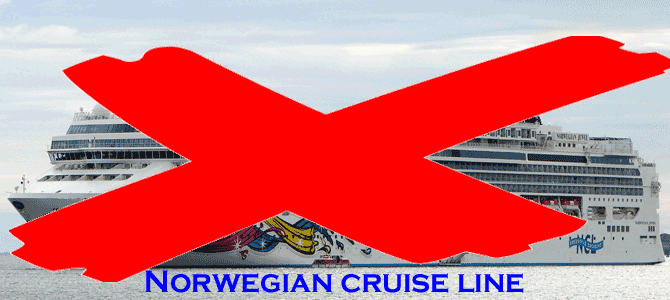 Worst Cruise Line = Norwegian Cruise Line
For only the second time in my life I have had a customer service experience that makes me want to avoid a company like the plague.  This latest experience with Norwegian Cruise Lines (NCL) makes them the worst cruise line in my mind for customer service, hands down.  If baffles me as to why a company such as NCL would want to treat their customers so poorly, to the point that they actually create adversaries.  Companies such as Nordstrom, Disney and Four Seasons understand customer service and want to make all customer interactions positive and show what a value they bring to their customer's lives.  Everyone understands that the customer is not always right, but great companies still make them feel valued even when customers make a mistake.  Great companies want to make it right whenever possible.  Is it really worth a few dollars to drive a customer away for life?  I will show you below how Norwegian Cruise Lines (aka…worst cruise line) cost their company tens of thousands of dollars in future business for the sake of making an extra few hundred dollars today.
Worst Bank = Bank of America
Let me first begin by giving you a quick synopsis of the first unbelievably poor customer service experience I had before jumping into the more recent NCL debacle.  The first one was with Bank of America at their Gainesville, VA branch office (14752 Lee Hwy, Gainesville, VA 20155) on 29 September 2012.  It was not only poor customer service, but also humiliating and embarrassing. Their manager obviously missed Customer Service 101.  I still remember the day well as I can still picture the exact location and time of the incident.  Long story short, Bank of America refused to accept my active duty military ID as an acceptable form of identification to cash a check.  I was in shock, as was everyone else in line, that Bank of America would do such a thing to a military service member.  They also rejected my Montana driver's license as it had an indefinite expiration date (99/99/9999) on it that some states do for active duty personnel so they don't have to renew their licenses while on active duty.  They simply would not cash my check and actually sent me home to my house to retrieve a BofA credit card to prove I was a Bank of America customer, despite the fact that they could pull me up in their system and clearly see that I was an active customer with their bank.  In the end they called the police on me, who, of course, sided with me, and encouraged the bank manager to cash my check.  The bank manager had a noticeable disdain for the military and I got the brunt of it on that fine day.  Needless to say, I avoid all business with this bank unless it's an affiliated credit card offer that I can take advantage of to benefit my family's travel plans.  Bank of America (aka…worst bank ever) will never get any of my regular business again and I will tell this story till the day I die to those that ask what banks I prefer.
Norwegian Cruise Line's Poor Customer Service
Now for the more recent and second of the two previously mentioned epic customer service failures.  This poor experience, worsened by Norwegian's zero remorse, causes me to avoid and rail against Norwegian Cruise Lines every chance I get because people need to be warned.  In short, I booked a NCL cruise for March '16 a couple of months ago through Costco Travel.  On the same day I also tried to contact Explore Cruise & Travel (via my USAA membership), but had to leave a message.  I was just inside the 90 day window before the cruise disembarked so Costco took full payment while booking.  The next day I was contacted by Explore who offered me the same exact class of cabins (I booked two) for over $700 less.  I called Costco back and asked for a price match and was told they do not do price matches and that I would have to contact NCL.  In Costco's defense, they did contact NCL on my behalf first, but NCL refused to offer any solutions and said there was nothing I could do short of canceling the reservation with a cancellation fee of $500 per cabin.  That math didn't add up so I called NCL myself and asked if they could waive the fees so I could re-book the exact same accommodations via Explore Cruise & Travel.  The representative said no so I asked to speak to a manager.  The manager actually answered the phone by stating how sorry he was and that there was nothing he could do for me.  He had obviously talked to the previous representative ahead of time and already had his mind made up.  Keep in mind that I am not trying to cancel anything, just move my booking from one travel agency to another.   Costco Travel was great and even had their manager call NCL again and said Costco Travel was willing to give up the booking to assist me without any fees on their part.  Explore Cruise and Travel also called on my behalf and said they were willing to accept the booking with no fees and would also help anyway they could to assist.  Both of the travel agencies were told NCL wouldn't change a thing.  It was clearly in the hands of NCL to help so I was at their mercy in regards to getting the reservation transferred.  They simply didn't care!
Norwegian Cruise Line's Corporate Offices
I tried one last time to plead my case by sending an email to the corporate offices who replied back with a number (1-800-456-7298 or 305-436-4000) to call to talk to "Annette" in their executive offices.  This gave me a little hope as maybe Annette had the autonomy to waive this arbitrary fee policy and help my family.  I called Annette who turned out to by one of NCL's executive customer service directors.  She proceeded to tell me that there was nothing they could do for me, but thanks for the email.  I asked her why NCL was so unwilling to waive the fees or help in any way.  Her answer was what really shocked me.  She said that each travel agency had different contracts with NCL (I knew this) and that this was basically a for-profit business and that they made more money with the booking through Costco.  I said that I understand capitalism and general business concepts well but that sometime a short-term win creates a long-term loss and that she just threw away a life-long cruiser to profit an extra $300-$400 as I'm sure some of the $700 was going to Costco, but they were willing to give it up to benefit their customer.  Costco wanted to make a happy customer, Norwegian Cruise Lines did not.
Norwegian Lost Thousands in Future Business
I am not retired yet, but this will be my eighth cruise with plans to cruise 1-2 times a year once my wife and I do retire and several more times before then.  I figure we will cruise at least 30+ times throughout our retirement.  At $2-4K per cruise, this is $60-120K in business that NCL lost just to make a few hundred dollars today.  Now how does that make for good business?This doesn't even take into account all of the negative word of mouth I will pass on through the next forty to fifty years.  Our cruise is in a few weeks and I will make it fun and enjoyable for my wife and children despite NCL's indifference and apathy.  I will not allow a family trip to be ruined, but the fact that NCL did not once apologize or offer anything to try and make lemonade out of lemons will stay with me for a long time.  It just shows me the type of company they are and how little they really care for their customers.  I encourage you to share this post and have anyone with questions post a comment here.  I would love for this to go viral.  If anyone is in the industry I would love to hear your insights as to why Norwegian Cruise Lines is so cavalier with their cruisers.  Don't they know my money and I will never be back?  I guess I should have stuck with the tried and true cruise lines such as Disney, Royal Caribbean and Princess where we have had the most success.
Helpful Links
I also should have known better as Norwegian Cruise Line is known for their poor customer service:
http://www.destinationtips.com/cruises/8-cruise-lines-to-avoid-in-2015/3/
http://www.escapehere.com/inspiration/the-15-bestworst-cruise-lines-in-the-world/10/
One thing about life, the longer you live the more your learn.  this is a lesson I learned the hard way.  My next post will tell you of a company that was able to fix one of my mistakes and created a customer for life.  Quite a difference from Norwegian Cruise Lines.
As always, happy brainstorming and safe travels!