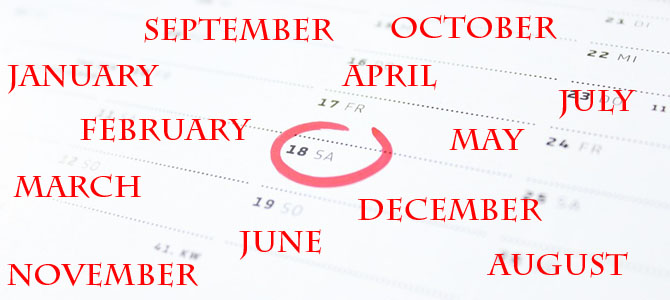 Ever wonder the best month to travel to get the best deals while still having a great experience?  There are the best times to travel due to big events such as the Super Bowl in February, but that will cost you an arm and a leg.  What most are interested in are the best values or bang for the buck.  The chart below is a sampling of sites across the web and where some experts feel are the best places to go when for the best bargains.  In other words, it's cheaper than normal, you can avoid huge crowds yet it's still nice weather and you will have a wonderful trip.  Take a look and see if you agree.
Best Month to Travel to Many Popular Destinations
Month

LifeHacker

(Marriott)

Time Inc.

About.com

Kayak

Various Sites

Travel & Leisure

Money Magazine

Jan

New York, NY

Santa Barbara, CA

Virginia Beach, VA

Asheville, NC

New York, NY

San Francisco, CA

Washington, DC

Orlando, FL

Cancun, Mexico

Las Vegas, NV

London, UK

Rome, Italy

Los Angeles, CA

Melbourne, Australia

TVs, Electronics, Bedding, Linens, cookware & Fitness Equipment

Feb

Colorado Springs, CO

Montreal, Canada

British Columbia, Canada

Ireland

Netherlands

San Antonio, CA

Savannah, GA

Hong Kong, China

Paris, France

New York, NY

Honolulu, HI

Hong Kong, China

Winter Apparel, Appliances, Furniture & Housewares

Mar

Portland, OR

Italy

Rio de Janeiro

Namibia, Africa

Los Angeles, CA

Italy

Spain

Nashville, TN

Montreal, Canada

Flagstaff, AZ

Buenos Aires, Argentina

Non-Apple Smartphones, Running Shoes & Team Apparel

April

Santa Fe, NM

Rocky Mountains

Charleston, SC

Maryland's Eastern Shore

Jamaica

Asheville, NC

Charlotte, NC

Los Angeles, CA

Fiji

Aspen, CO

Ski Trips

Chicago, IL

Copenhagen, Denmark

Home, Garden & Auto Supplies & Spring Clothing

May

Lake Tahoe, CA

Denver, CO

Australia

Tokyo, Japan

Hawaii

Washington State

Atlanta, GA

New York, NY

Turks and Caicos

Hawaii

Ft Lauderdale, FL

London, UK

Home Furnishings & Home Goods

June

Dallas, TX

Thailand

Baja, CA

Umbria, Italy

Phoenix, AZ

Utah

Albuquerque, NM

Chicago, IL

St. Martin/Maarten

Thailand

San Antonio, TX

Beijing, China

Tools & Home Improvement

July

Caribbean

Palm Beach, FL

Baton Rouge, LA

Cayucos, CA

Tucson, AZ

Memphis, TN

El Paso, TX

Boston, MA

St. Lucia

South Pacific

Boston, MA

Sydney, Australia

Swimwear, Summer Entertaining & AC Units

Aug

Tucson, AZ

New Orleans, LA

Las Vegas, NV

Idaho

Las Vegas, NV

Killington, VT

Kansas City, MO

San Francisco, CA

Rio de Janeiro, Brazil

Madrid, Spain

Croatia

New York, NY

Berlin, Germany

Laptops & Summer Clothing

Sep

Martha's Vineyard, MA

Montana

Door County, WI

Japan

New Orleans, LA

Orlando, FL

Seattle, WA

Toronto, Canada

Miami, FL

Orlando, FL

Rome, Italy

Home Furnishings, Outdoor & Patio Goods & Last Generation iPhones and iPads

Oct

Miami, FL

Vancouver Islands, BC

Panama City, FL

St. Martin/Maarten

Costa Rica

Breckenridge, CO

Nantucket, MA

Milan, Italy

National Parks

New Orleans, LA

Cape Town, S. Africa

Denim, Fall Fashion, Camping Gear & Sports Equipment

Nov

South Pacific

Riviera Maya, Mexico

Austin, TX

Lake Tahoe, NV

Reno, NV

Dominican Republic

Portland, OR

Bangkok, Thailand

St. John, USVI

San Diego, CA

Key West, FL

San Francisco, CA

Rio de Janeiro, Brazil

Video Games & Consumer Electronics

Dec

Napa, CA

Washington D.C.

Seattle, WA

European Riverboat Tour

Napa-Sonoma, CA

Germany

Greece

Las Vegas, NV

Vancouver, Canada

Bali

Las Vegas, NV

Frankfurt, Germany

Gift Cards & Toys
The Best Month to Travel Overall
The site Skyscanner where they analyze millions of flights and reservations a year claim that November is the overall cheapest month to travel.  This is the month it is the most difficult for the travel industry to fill it's planes, hotels and resorts.
When to Buy Airline Tickets
Below is a graphic from cheapair.com that shows when they feel is the best time to book your flights based on where you are traveling.  So if you are planning to take the advice above and book your trip to Las Vegas this coming winter, you had better do it 47 days in advance for the best ticket prices.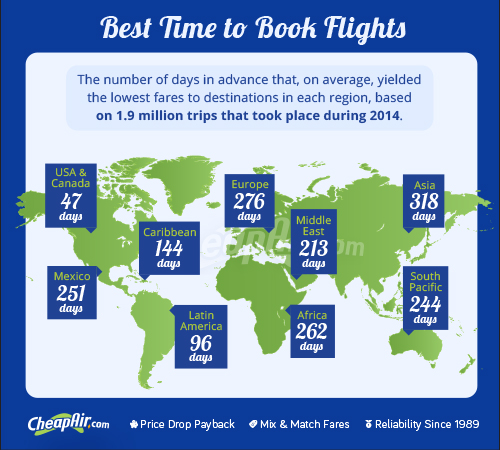 One thing I did notice from my research is that there may be some general trends that exist on when to travel to certain regions or popular destinations, but that it's far from precise.  Any given year the airfare sales may hit at the right time and you could snag a bargain at any time.  The key is to have a system to stay up on fare alerts to where you want to go and have a point plan to ensure you have the ammunition necessary to lower your cost or possibly make your trip free.  It's really this game of finding that great deal that I love most.
Be sure to subscribe to my email list for updates on all new posts.  If you would like to help support my site you can use my Amazon affiliate link below.  Thanks for reading and as always, happy brainstorming and safe travels!