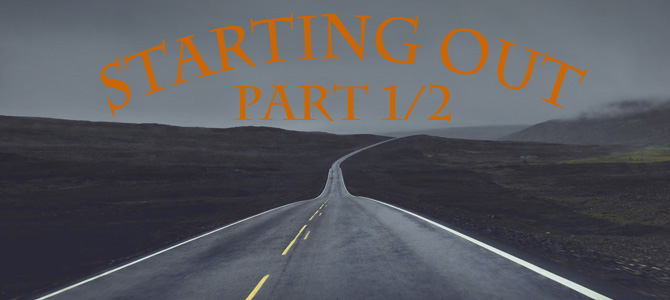 Starting Out
How often have you ever said "I wish I knew that starting out?"  I know that many folks starting out come to my blog, and others like it, are new to reward and loyalty point collecting and are looking for tips to get started.  Some have asked for what I wish I knew starting out.  My next few blog posts will be devoted to the advice that I have gathered over time from various sources and firsthand experience that I wish I knew starting out.  Take this information and use it to your advantage.  Don't make the same mistakes many others have, and still are, making.  Here are the first five:
Tip #1: Take Advantage of Lucrative Credit Card Offers
Many feel that their credit scores will drop if they take advantage of the lucrative sign-on bonus awarded when getting a new credit card.   This is simply not true.  Credit cards are the fastest way to gain huge points in a hurry.  One just has to have a plan and do it the right way.  Check out my Dave Ramsey post for additional information on doing it right.
Tip #2: Funnel all Your Purchases Through Shopping Portals & Credit Cards
When buying anything online my favorite starting site is Evreward.  It shows me the various loyalty programs currently offering points if I use their links for a given vendor.  I then also use the most appropriate credit card to double dip and maximize my points.  If you have a set goal in mind then you can always concentrate your efforts with a specific shopping portal and credit card.  For example, if I was trying to earn enough for a United business class flight to Europe I would be using their shopping portal and credit card to make my online purchases and their mobile shopping app and credit card if buying in a store.  Of course you don't want to miss the forest because of the trees and buy something that you could get elsewhere cheaper.  Lowest final price should always be a priority over earning points.  Ideally, you earn points from the site that also has the lowest price.
Tip #3: Use Flyertalk and InsideFlyer (formally Milepoint)
If you want to build your knowledge quickly, read Flyertalk and InsideFlyer posts.  The wealth of knowledge on these sites from the many knowledgeable and experiences users is unbelievable.  Don't be afraid to ask your question if you can't find an answer.  Do your research first, but if you come up empty handed, many users are willing to help you find what you need.
Tip #4: Don't Waste Time Wishing You had Started Sooner
There is no better time to start than the present.  Be excited that you have discovered a way to get free or discounted travel for the rest of your life and don't fret that you lost out on the US Mint point machine or the Bluebird card hey days.  New deals will come along, just be ready to take advantage of them when they do.
Tip #5: Track Your Miles and Points
Let's be honest, it's hard to keep track of all your loyalty and reward programs so you need a way to do it electronically.  If you don't, you will find yourself losing points that expire.  I like to use AwardWallet as it's inexpensive and works great.  There are some other options, but I can't really think of a good reason to not just use the best from the beginning.  It also has a mobile app that keeps all your membership numbers at your fingertips.
More tips are coming soon.  I hope you find these helpful.  As always, happy brainstorming and safe travels!  Be sure to help out the site by using my Amazon affiliate link to shop for that special someone.
To be continued here