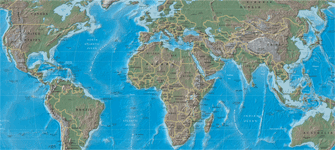 I recently left the country for a quick excursion into Canada and it made me realize that I was woefully unprepared and sure didn't take any steps to ensure my safety and well-being while abroad.  I am a planner by nature so this was out of character for me.  I guess I was just thinking that it wasn't that far away so what's the big deal?  I did end up scurrying around on the day before my departure to ensure all was in order, but to avoid that mess and a potential disaster, like finding I had an expired Passport, do the following six steps as soon as possible after deciding to travel abroad and then follow-up with some more extensive checklists as your departure date approaches.
6 International Travel Checklist "Must-Do" Items


1 – Check for Current Passport and Any Required Visas
You need to make sure your Passport is current and won't expire while traveling abroad.  It's best if issued at least six months before travel.  If you need to apply for a new Passport you can search for the nearest facility here.
2 – Check Out the Country Where you are Traveling
Be sure to check for travel warnings and general information on the country you will be entering from the Department of State's website (Warnings & Information).   You can also check the U.S. Customs and Border Protection website.
3 – Get Any Necessary Vaccinations and Medications
You can check for any necessary vaccinations from the Center for Disease and Control Prevention.  You will know where to get your necessary prescriptions, but be sure to check and ensure they are not on your destination country's confiscation list.
4 – Register Your Trip with the Department of State
The Department of State has a Smart Traveler Enrollment Program (STEP) where you can register your trip with the nearest U.S. Embassy.  It's never a bad idea to be extra cautious.
5 – Advise Other of Your trip
Advise you family and co-workers where you are going and when they should expect your return.  In the event you do not they can then try to contact you and, if necessary, the closest U.S. Embassy for your status.
6 – Prepare your Phone
You will have to decide what is best for you but you can call your cell company and be switched to an international plan (your number stays the same), if available, or you can buy a local SIM card (your number will be different) to use while in country.  Your cellular carrier can help you decide what may work best for you.
I feel the above six steps are must-dos before leaving your home country.  There are many other steps you will also want to consider, such as making copies of all important documents and identification, so be sure to check out some of the more comprehensive list available online such as this PDF on the Adventure in Good Company website or this list on Travelzoo.
As Always, happy brainstorming and safe travels!  Be sure to sign up for my email list (in footer below or at top of right sidebar) and "Like" us on Facebook.