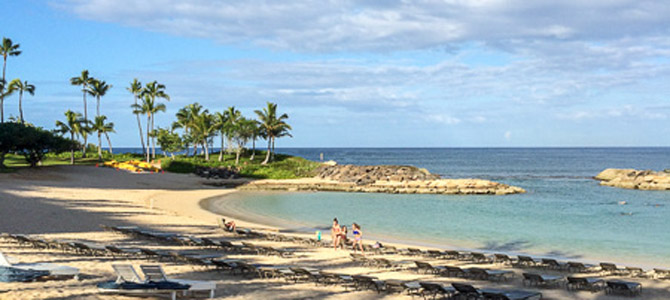 Our Spring Break in Hawaii went off without a hitch and everyone had a great time. Now it's time to round-up all the numbers and see what the trip would have cost and what we were able to save by using points and miles. Remember, this isn't going to be one of those free trips or really even the best use of one's points as this was always just an effort to save as much as possible since we were locked into our kid's Spring Break and had very few options. Basically, it's probably more how not to spend your points.
Our flight was out of Spokane and went off without a hitch. We were not able to get upgraded to First Class on the way out, but had comfortable seats and the flight went fast even though we were anxious to begin our Hawaiian adventure. Once we landed and all the bags came off and were accounted for, the first major hurdle was cleared and we got on the shuttle to the Alamo rental car facility. We arrived at the rental car location and picked up our SUV and everyone and our luggage fit perfectly, just as planned. We ended up with a Hyundai Sante Fe Sport. A little tight for a family of five, but more than enough room once the baggage was unloaded at the condo.
The Marriott Ko Olina was everything we had hoped and we enjoyed what little time we spent there during the week. Of course, most of our time was spent exploring the island. During our week we made it all the around the island hitting many of the major spots such as Diamond Head, Waikiki Beach, North Shore, Banzai Pipeline, Turtle Bay, Hanauma Bay, Waimea Valley, Sandy Beach, Makapuu Point, Kailua Bay, a Fiafia Luau and the lagoons of Ko Olina (to name just a few). All in all it was a fun-filled week which resulted in a countless number of priceless memories.
Here is the cost break down for our Spring Break in Hawaii :
Travel Expense
Retail
Points/Miles Used
Savings
Our Cost
Airfare (Alaska Airlines)
$ 4,190.00
Ultimate Rewards 234,897
– 2,508 (earned) = 232,389
$ 2,936.22
$ 1,253.78
Lodging (Marriott Ko Olina Resort)
$ 6,294.12
RedWeek.com
$ 3,488.10
$ 2,800 + $67.62 – $61.60 = $2806.02
Rental Car (Alamo via Hotwire)
$369.91
Barclay Arrival 33,292
Mr. Rebates (2% Refund)
$375.08
$ -5.17
Totals
$ 10,854.03
265,681
$ 6,799.40
$ 4,054.63
Just a few notes on the amounts above:
The Ultimate Rewards points used for airfare is adjusted to account for the 2,508 points I earned using my UR credit card to purchase the tickets
The lodging cost represents the $2,800 for the condo owner, plus $9.66 x 7 = $67.62 in taxes charged by Marriott, minus the $61.60 in Arrival points credit earned by using my Barclays Arrival CC to pay the condo owner via PayPal
With the Barclays Arrival points used on the rental car purchase above (see pic below) I was credited back 10% to arrive at the final total used of 33,292
All in all I was able to save 63% off our Hawaiian vacation, not too shabby. But this savings doesn't take into account that our airfare tickets were Alaska Airlines MVP up-gradable, so I was able to upgrade my entire family to First Class for the flight home from Honolulu which I am sure my girls will not forget for a long time. They are too young to have ever been served hot food in a plane before so this was a first for them. The upgrades would have easily been $150.00 each for an additional savings of $750.00 minimum. That makes our overall savings 65%. I think being able to finagle Spring Break in Hawaii for a family of five, in a beach front condo resort for 35% of retail may be my steal of the year. The best part, as always, is that I get to enjoy the smiles on my kids faces and the memories we made for the rest of our lifetimes! There is no way to ever put a price on that.
Be sure to leave me your feedback below on what you would like to see more of in my future posts.
As always, happy brainstorming and safe travels!  Please sign up for my email list (below or at top of right sidebar), "Like" us on Facebook and check out all my travel reviews on Trip Advisor, just search for "TravelBrainstorm" (one word)!