My First Mileage Run
by Jon Mohatt
After many visits to the Milepoint and Flyertalk forums on mileage runs I decided it was finally time to try one myself.  I am in a situation where I need another 3500 miles to reach Gold status for the year so I began looking for a flight that would give me that many PQMs while not costing me an arm and a leg.  My criterion was that it had to be on a Star Alliance partner, available on a Saturday, depart and return to IAD (Dulles), cost less than 4¢ per mile and be a same day round trip.  If a flight could meet this criterion then I would give it a go.  I do not like to be away from my family on the weekends so it had to be a great deal for me to sacrifice a day away.
In addition to reading the forums listed above I also use an email list service offered by The Flight Deal where they send me emails of all flights they find with a cost of less than 5¢ per mile.  Their website allows one to look at major cities for departures that fit this pricing, and Washington D.C. is one of those major cities, so it works great for me.  It was actually this email list that notified me of an interesting deal on United flying out of IAD to OMA (Omaha) via IAH (Houston).  It caught my attention because it met my entire criterion.  I also had a United $100 travel certificate that I needed to use before it expired so it made this deal even sweeter.
Since I had this certificate to use I had to book my flight on the United web site but they normally have the same or lower prices as Orbitz and others so this didn't bother me.  The price for the trip ended up right at $152.10 before applying the certificate.
Cost & Itinerary: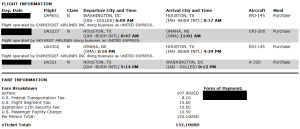 My out of pocket cost was $52.10 for 3942 PQMs (1.32¢/PQM) and 4926 Award Miles (1.06¢/mile).  Even if I didn't have the certificate it would have only been 3.86¢/PQM & 3.09¢/Award Mile, still within my criterion.  The nice thing about using the certificate, which was free to me, was that it made it where I actually made some money back on each mile awarded.  With a conservative valuation of 1.8¢ per Award Mile, I actually made .71¢/mile or $34.97 back, making my final out of pocket cost only $17.13.  Depending on how I use the award miles (redemption value), I may actually end up making money for flying this itinerary.  It's this type of deal that made it worth my time away from family to earn the miles towards Premiere Gold status (since I'm so close).  I will also need all the help I can get this coming year with United devaluing their points.
Award Miles and PQMs Earned:

The flights all stayed on schedule and I was actually home 15 minutes ahead of schedule so it was a good day flying.  I wish I had a bit longer in Omaha to get out and see friends in town and all the growth that has taken place there in the past decade.  It's actually a very nice city that many would enjoy if they took the opportunity.  In any event, my first mileage run went off without a hitch and it looks like, with my one remaining planned trip this year, I will make Star Alliance Premiere Gold status with United and it didn't cost me much extra to do it.