Earn Points
by Jon Mohatt
Now that you have your accounts open you need to start earning some points.  The list below is far from complete and I may add to it from time to time as I discover new opportunities to earn points.  It seems like you can earn points for most anything you do online now a days but the most fun is still had by earning them the old fashioned way…Traveling!
1.  Travel
I think it goes without saying that the #1 way to earn points is to ensure your loyalty program number is provided when flying, staying at a hotel, renting a car, etc.  I'm still amazed at the number of people that will travel without using loyalty programs.  They are just leaving free travel and discounts on the table.  Now a days it really doesn't take that many trips before you can earn a free flight or hotel room.  Marriott is well known for having "MegaBonus®" promotions where one can sometimes earn a free night for every two paid stays.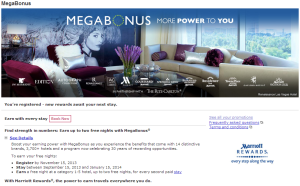 Just recently I did a few mattress runs (hotel stays simply to accumulate stays) at just $64 a night with taxes included.  I then used two of my free nights to stay at a Category 5 residence Inn that would have normally cost $265 and to reserve another Category 4 Marriott that would have cost $343.  That's a savings of (265-128) $137 and (343-128) $215 respectively.  I also received the night credits for the paid stays in the $64 Fairfield Inn with free breakfast and four nights of credit towards next year's loyalty status (paid stays).  Of course this deal is even better when you are traveling for work and the paid nights are paid for by your employer.  That makes it a free $265 or $343 room for just taking the time to register for the Mega Bonus promotion and provide your loyalty number when reserving the hotel.  Not too shabby if you ask me.
2.  Credit Cards
When asking any prolific point connoisseur their method for earning the most points they will often not say travel, but rather say credit cards to include churning and App-o-Rama's.  Many others give the basics of churning and applying for credit cards so I won't regurgitate what has already been said a million times.  My personal view is that credit cards are a great way to accumulate lots of points quickly if done right.  Just remember to be prudent.  Anything in excess is almost always bad and the same holds true with credit card applications.  Plan your applications so that you can pool several of them at the same time (called App-o-Rama) to try and minimize hard credit pulls.  One trick some use is called the 2 or 3 browser trick or browser method (2BM/3BM).  This is when you apply for 2-3 different credit cards at the same bank (i.e. Chase) at the same time using different browsers (i.e. Chrome, IE and Firefox).  If all 2-3 applications are submitted within a minute or two of one another folks have been successful at only having one hard credit pull hit their credit report.  This is a great benefit if you can get approved for three credit cards with just one "hit" to your credit.  If you really want to read more about all the various 3BM tips and tricks head over to www.dansdeals.com and search the site for "3BM".  I believe he is the one that originally coined the term.  Some may say that trying this method is just getting greedy but I think everyone can make that decision for themselves.  If one tends to be conservative like me than 3-4 credit cards (from different banks) every 3-4 months is probably about as aggressive as you want to get, maybe even less.  It really has to do with your situation, credit score and future aspirations.  If you plan to apply for a home mortgage anytime soon (less than 2 years) then you may want to avoid this method and anything else that will cause hard credit pulls to hit your credit report.  One final note on churning is to try and monitor the cycles in which some of the best credit card offers are offered and only apply for the best ones.  The last thing you want to do is waste a hard pull on a 30K point bonus on a credit card to see a 50-60K point bonus offered the very next month.  Head on over to this link for a more in-depth discussion on analyzing credit card churns (App-o-Rama's).
Do the following if you are going to use credit cards to acquire points:
– Monitor your credit score (Credit Sesame and Credit Karma are free options to do this)
– Monitor minimum spent requirements to ensure you can reach that level in the time required
– Only apply for the best bonus and ensure they are for points that you will actually use
– Watch out for annual fee requirements
– Keep the no annual fee cards to increase your "Length of credit history" which accounts for
15% of your credit score calculation
3.  Online Purchases
If you want to maximize the point earning potential then you need to check for point earning options each and every time you buy anything online.  The first place I go before making any online purchase is http://www.evreward.com to see who is offering points via the merchant that I intend to use.  Another one to check is http://www.rewardsdb.com/.  If nothing pops up at these two sites then I head over to my Ultimate Rewards (UR) shopping portal as almost everyone seems to have a Chase Sapphire or Chase Ink credit card now a days due to the Ultimate Rewards program and their great reward opportunities.  Another huge benefit is the ability to transfer UR points into other programs.  If I am still empty handed after checking all these sites I will then look at some cash rebate sites with my favorite one being Mr. Rebates.  One can choose from whoever is providing the best cash back for the merchant in question but you will have to decide how many account you want to maintain.  I get by with Mr. Rebates, Ebates, Big Crumbs and FatWallet with most of my cash being earned with Mr. Rebates.  If you would like to join just send me an email via the "Contact Me" page and I will ensure you get an invite to join directly from Mr. Rebates.
I normally choose to earn points on small purchases as that is a very easy way to "bump" an account's expiration date.  Even if you just earn a point or two, your expiration date for all your program miles (i.e. United MileagePlus) will be reset with the date of your most recent activity.  I don't use some programs very often (Frontier & Alaskan Air) but I can always ensure my points don't expire by using their shopping portals from time to time.
4.  Other
The three methods above are the primary ways you will earn the majority of your points.  There are other ways to earn points that include dining programs, financial services, promotions, limited time offers, sign-ups, point transfers, point purchases, etc.  The way I try to keep up with the many different offers that come and go is to sign up on the mailing list for a few of the best frequent flier forums so you get regular emails of all the best deals.  You can also "Like" their pages on Facebook and follow them on Twitter if you prefer to receive your updates on these venues.  A few of my personal favorites are http://www.millionmilesecrets.com, http://www.frugaltravelguy.com, and http://thepointsguy.com.  You can also follow a couple of forums to get more information than you could ever read.  Check out http://www.flyertalk.com and http://milepoint.com/forums for discussions on just about any frequent flyer travel topic you care to discuss.